Logo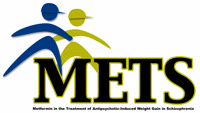 Study Design
Randomized, double-masked placebo-controlled trial
Description
Life expectancy for individuals with schizophrenia is up to 25 years shorter than for the general population. Weight gain and metabolic abnormalities that are associated with morbidity and mortality are common in schizophrenia, and while a number of factors contribute to weight gain and poor health status in patients with schizophrenia, it has been well documented that many of the second generation antipsychotic medications are associated with weight gain. Other than switching from one antipsychotic medication to another, there are few options available to patients that have experienced antipsychotic-induced weight gain. Unfortunately, such a switch also places an otherwise stable patient at potential risk of clinical decompensation.

Metformin is an oral antihyperglycemic agent that is indicated for type 2 (noninsulin dependent) diabetes mellitus. It acts primarily by inhibiting hepatic gluconeogenesis and to a lesser extent by increasing insulin sensitivity. Metformin does not by itself produce hypoglycemia. Studies to date indicate that metformin is associated with weight loss in type 2 diabetes mellitus and in pre-diabetic individuals, and that patients with first-episode schizophrenia that have experienced early weight gain with atypical antipsychotics can lose weight with metformin and lifestyle intervention.

What remains uncertain is the more generalized question of whether metformin is a useful adjunctive treatment for patients with chronic schizophrenia who are obese and are taking atypical antipsychotics. The current study is designed to address this question.